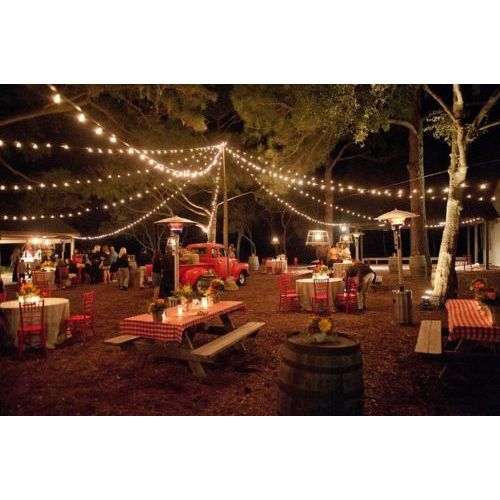 24 LED Umbrella light

Perfect for late night outdoor activities

Simply clamp the light around the pole to provide instant lighting
Our high quality outdoor globe string light sets beautifully transform your space and create the perfect ambiance for you to enjoy all year long. Perfect for weddings, events, and home decor, your string lights will be the highlight in any setting. Set the mood with us!
- Set includes a 50 Foot C7 Base light string and 50 G40 5 watt CLEAR glass light bulbs
- Sockets are spaced every 12 inches
- Our G40, 5 Watt C7 (E12) base light bulbs are 1.6" wide by 1.6" tall
- Connect Up to 3 sets end-to-end! - 150 foot total length
- Manufactured with 18 gauge wire and rated for up to 959 total watts
- Average bulb life is 3000 hours. Nickel base
- If one bulb burns out the rest stay lit
- For indoor and outdoor use
- Length of wire from plug to first light bulb is 6 inches
- Set also includes spare bulbs and a spare 8 amp fuse located inside the plug
- Free Shipping.
- Hassle-free Warranty.
More Information

| | |
| --- | --- |
| Sidewalls Included | YES |
| Sidewalls Removable | YES |
| Sidewalls With Window | YES |
| Water Resistant | YES |
| UV Resistant | YES |
| Mold Resistant | YES |
| Mildew Resistant | YES |
| Ropes / Stakes Included | YES |
| Hastle Free Returns | YES |

Shipping
Shipping to the United States is 100% free! We will ship it out within 24 hours (business days) and it will take 3-6 business days to arrive at your door. If you need faster delivery, please pick expedited shipping.
For orders that are shipping by Freight, it can take 10-15 business days, and up to 10 business days with Expedited shipping. It rarely takes longer than 5 business days, however.
In order to insure fast and safe delivery, we use FedEx, UPS, or USPS shipping services. You should receive an email with the tracking number soon after we ship your order to help you track your package.
At this time, we do not ship to Hawaii, Alaska, Virgin Islands and Puerto Rico.
FOR CANADIANS:
Orders to Canada are possible, but we need to be contacted beforehand. Please speak to us via email, live chat, or phone before placing an order.
To clean the party tent:
- Lay down the fabric on the ground.
- Spray it lightly with a 95% Water, 5% Soap mixture
- Clean it using a car sponge
- Dry it completely before storing it.
- Store in a dry area
Always use the proper installation and dismantling techniques which are listed in your instructions manual. Using stakes and/or weight bags on your party tents will greatly increase wind resistance and is always suggested! Know that even the best party tents can only withstand wind up to a certain point. If you feel you're getting close to that point, we strongly advise taking down the party tent before it gets damaged!
Follow these tips, and your party tent will last you for years, and years to come!
Lifetime
Warranty
Free
Shipping
No Sale
Taxes
Award-Winning
Customer Service
50 Foot Outdoor Globe String Lights
Special Price
$99.99
Regular Price
$199.99
For Any Occasion

Includes everything you'll need for any outdoor event

This Package includes the following:

20x20 Party Tent

Single 32" Portable White Folding Bar Stool Table

50 Foot Outdoor Globe String Lights

Foldable Bar

Safety Anchor Kit

$1,817.84

Regular Price

$4,029.72

Party

For any outdoor occasion

This package includes the following:

20 x 20 Party Tent
Portable 4' White Folding Table (10-Pack)
White Folding Plastic Chair (20-Pack)
Safety Anchor Kit
50 Foot Outdoor Globe String Lights

$2,519.91

Regular Price

$5,909.85