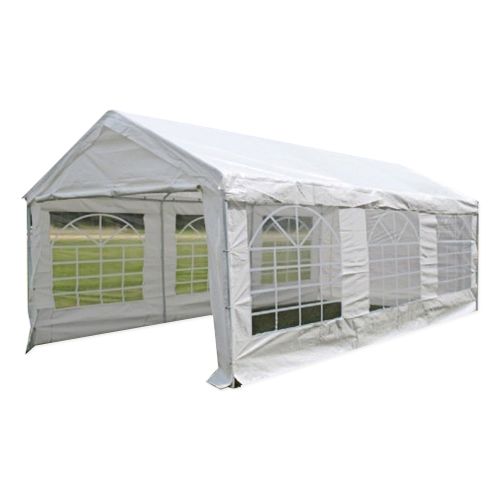 Designed for durable performance and easy assembly
Ideal for small events (e.g. bazaars, community affairs)
Included in this purchase: the Party Tent's frame, the roof canopy (fabric), the sidewalls, the stakes, the ropes, and the storage bags
50% OFF on 20X10 Heavy Duty White Canopy Party Tent
Renting a white canopy party tent for your event? That's gonna cost you a lot more. Here's a suggestion: Buy your own white canopy party tent. Every time you want to organize a get-together, you just bring it out of the storage closet and set it up on your desired location. Our party tents will be able to protect you from the sun, the rain, and the snow. That means you could use it all year round without having to worry about a thing. It is huge enough to accomodate all of your guests and it is elegant and rugged at the same time so you could use it for any kind of party.
Dimensions: 20' L x 10' W
- Height:
Side Height: 6.6'
Center Height: 8.9'
- Cover: Strong 160 gr/m2 Polyethylene
- Door Dimensions: 7' W x 6.2' H
- Sidewalls: Strong 160 gr/m2 Polyethylene
- Poles:
Diameter: 1.5"
Thickness: 1 mm
- Joints:
Diameter: 1.65"
Thickness: 1.2mm
- 160 gram/m2 water resistant Polyethylene cover
- 160 gram/m2 water resistant Polyethylene side walls
- There are entrance doors on both of the end walls
- Side and front entry walls are equipped with industrial strength zippers
- Water-resistant
- Tubes are coated with white powder for a more elegant finish
- Equipped with UV stabilized fabric for protection from the sun's harmful rays
- Can be anchored to the ground for extra resistance to strong winds
- After using the tent, fold it up and easily store it in your storage closet
- If a lot of water or snow is accumulated on the cover, it is suggested to remove them to extend the life of the carport shelter
- Included in this purchase: the Party Tent's frame, the roof canopy (fabric), the sidewalls, the stakes, the ropes, the pegs, and storage bags
- Lifetime extended warranty coverage
- Super simple return procedure
More Information

| | |
| --- | --- |
| Specifications / Size | 20' x 10' |
| Width (ft.) | 20' |
| Length (ft.) | 10' |
| Peak Height (ft.) | 8.9' |
| Area (sq. ft.) | 200 |
| Weight | 100 lbs |
| Sidewalls Included | Yes |
| Sidewalls Removable | Yes |
| Sidewalls With Window | Yes |
| Shape | Rectangular-shaped |
| Fabric Material | Polyethylene |
| Fabric Weight | 160 g/sq.m |
| Water Resistant | Yes |
| UV Resistant | Yes |
| Mold Resistant | Yes |
| Mildew Resistant | Yes |
| Pole Diameter | 38.1mm |
| Metal Thickness | 1mm |
| Storage Bags Included | Yes |
| Ropes / Stakes Included | Yes |
| Persons suggested to setup | 2+ |
| Lifetime Warranty | Yes |
| Hastle Free Returns | Yes |
| Free Shipping | Yes |

Shipping
Shipping to the United States is 100% free! We will ship it out within 24 hours (business days) and it will take 3-6 business days to arrive at your door. If you need faster delivery, please pick expedited shipping.
For orders that are shipping by Freight, it can take 10-15 business days, and up to 10 business days with Expedited shipping. It rarely takes longer than 5 business days, however.
In order to insure fast and safe delivery, we use FedEx, UPS, or USPS shipping services. You should receive an email with the tracking number soon after we ship your order to help you track your package.
At this time, we do not ship to Hawaii, Alaska, Virgin Islands and Puerto Rico.
FOR CANADIANS:
Orders to Canada are possible, but we need to be contacted beforehand. Please speak to us via email, live chat, or phone before placing an order.
To clean the party tent:
- Lay down the fabric on the ground.
- Spray it lightly with a 95% Water, 5% Soap mixture
- Clean it using a car sponge
- Dry it completely before storing it.
- Store in a dry area
Always use the proper installation and dismantling techniques which are listed in your instructions manual. Using stakes and/or weight bags on your party tents will greatly increase wind resistance and is always suggested! Know that even the best party tents can only withstand wind up to a certain point. If you feel you're getting close to that point, we strongly advise taking down the party tent before it gets damaged!
Follow these tips, and your party tent will last you for years, and years to come!
Lifetime
Warranty
Free
Shipping
No Sale
Taxes
Award-Winning
Customer Service
10' X 20' Heavy Duty Canopy - White
Special Price
$589.99
Regular Price
$1,179.99
Capacity up to 60

Easy Assembly

UV Ray Resistant

Water Resistant