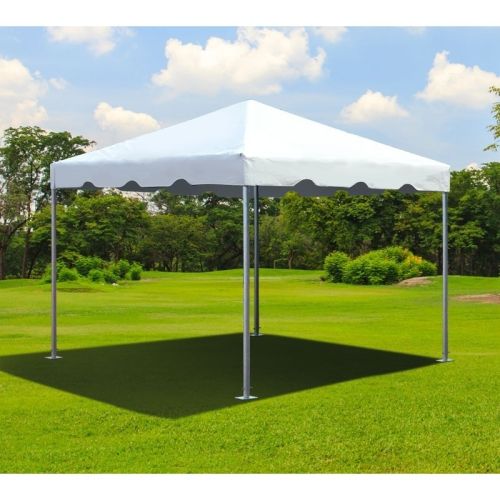 Designed for Strong Durability, Safety, and Rentals
Commercial Quality Materials
Sturdy Anodized Aluminum Frame
See through stripe on top allows sunlight to get in, while blocking the UV rays
Enclosed with Sidewalls (Optional)
Commercial Grade Ropes and Stakes Included
Very Easy to decorate with lights, flowers, etc...
This commercial grade 10' X 10'' Commercial Frame Party Tent can be setup without a truck or trailer. Minimum Tools are required for this tent to be set up. It is ideal for events like casual gatherings, big barbecues, weekend parties, memorial day, 4th of July, Churches, Schools, Vendor Booths, craft shows, flea markets, etc....
It is very durable and heavy duty, all while maintaining a quick and easy setup procedure.
It features a rigid anodized aluminum frame and galvanized steel fittings. The tent top is extremely sturdy and is built from 16 oz block-out PVC Coated Polyester. that is flame and mildew resistant. It has 1" heat-sealed overlap seams, polyester sidewall ropes fastened with polyester webbing, replaceable sidewall rope, 2" nylon webbing and multi-layered reinforcement at all pole locations and identification and flame certificate label heat bonded to each top.
Leg & Pole Sizes:
Tent Legs - 6' 8" Hip Rafters - 6' 10"
Spreaders - 9' 4"
These frame tents are built out of an expandable system. Many customers in the rental business prefer this because the same parts can be used on multiple different sizes of tents.
Features
Heavy Duty Construction
Commercial Grade Materials
16 oz translucent vinyl top blocks UV Rays
Flame Resistant (NFPA 701:2010 Fire Resistant Certified)
Completely Waterproof
Panel are heat sealed with 1" of bonded overlapped seams

Designed to withstand setup/teardown wear and tear throughout the years.

2" anodized aluminum frame.

Cast aluminum corner fittings.

1.25" thick anodized schedule 40 aluminum poles.

Cast Aluminum Corner Fittings

Tension cables cross from corner to corner to support the center mast.

Fewer fittings and parts than traditional pole and frame tents.

Includes complete tent including top, frame, poles, 3/422" galvanized steel stakes, Storage Bag, ropes, and very detailed instructions.
These tents are manufactured using a fire resistant vinyl that meets or exceeds the National Fire Protection Association fire resistant standards.
Hassle Free Returns
Free Shiping
Hight quality Craftsmanship
More Information

| | |
| --- | --- |
| Specifications / Size | 10' X 10' |
| Width (ft.) | 10 |
| Length (ft.) | 10 |
| Peak Height (ft.) | 7.8 |
| Area (sq. ft.) | 100 |
| Weight | 204 |
| Sidewalls Included | NO (Optional) |
| Sidewalls Removable | Yes |
| Sidewalls With Window | Yes (Optional) |
| Shape | Square |
| Center Pole | NO |
| Fabric Material | Vinyl |
| Fabric Weight | 16 oz |
| Water Resistant | YES |
| UV Resistant | YES |
| Mold Resistant | YES |
| Mildew Resistant | YES |
| Frame / Pole Material | Anodized Aluminum |
| Pole Diameter | 2" |
| Metal Thickness | 1.25" |
| Storage Bags Included | No |
| Ropes / Stakes Included | YES |
| Tools required for Assembly | YES (Minimal) |
| Persons suggested to setup | 2+ |
| Lifetime Warranty | Yes |
| Hastle Free Returns | YES |
| Free Shipping | Yes |

Shipping
Shipping to the United States is 100% free! We will ship it out within 24 hours (business days) and it will take 3-6 business days to arrive at your door. If you need faster delivery, please pick expedited shipping.
For orders that are shipping by Freight, it can take 10-15 business days, and up to 10 business days with Expedited shipping. It rarely takes longer than 5 business days, however.
In order to insure fast and safe delivery, we use FedEx, UPS, or USPS shipping services. You should receive an email with the tracking number soon after we ship your order to help you track your package.
At this time, we do not ship to Hawaii, Alaska, Virgin Islands and Puerto Rico.
FOR CANADIANS:
Orders to Canada are possible, but we need to be contacted beforehand. Please speak to us via email, live chat, or phone before placing an order.
To clean the party tent:
- Lay down the fabric on the ground.
- Spray it lightly with a 95% Water, 5% Soap mixture
- Clean it using a car sponge
- Dry it completely before storing it.
- Store in a dry area
Always use the proper installation and dismantling techniques which are listed in your instructions manual. Using stakes and/or weight bags on your party tents will greatly increase wind resistance and is always suggested! Know that even the best party tents can only withstand wind up to a certain point. If you feel you're getting close to that point, we strongly advise taking down the party tent before it gets damaged!
Follow these tips, and your party tent will last you for years, and years to come!
Lifetime
Warranty
Free
Shipping
No Sale
Taxes
Award-Winning
Customer Service
10' X 10' Commercial Frame Tent
Special Price
$1,499.99
Regular Price
$3,999.99
Capacity up to 25

Easy Assembly

Flame Retardant

Waterproof
16 Foot Outdoor Retro Globe String Lights

High quality outdoor globe string light

Transforms dull space into perfectly illuminated area

Can be enjoyed all year round and perfect for weddings, events or home decor

Special Price

$39.99

Regular Price

$79.99

Outdoor Floor Tiles (1Sq. ft.)

Amazing for outdoor parties or just to cover up old patios
Perforated to allow water to seep through
Made in America of the best quality

Special Price

$4.99

Regular Price

$9.99

Night wrap-around LED light fixture

24 LED Umbrella light

Perfect for late night outdoor activites

Simply clamp light around pole to provide instant outdoor lighting

Special Price

$31.90

Regular Price

$63.80