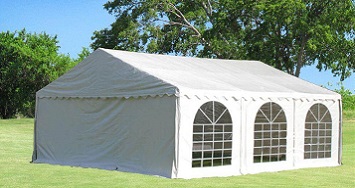 20' X 20' Party Tent
TheGazeboStore is committed to provide you with your gazebo and tent needs. Everything is made to be durable, and safe. From party tents, to fire retardant PVC tents they have it for your parties, and any other events. They also provide tables, chairs and accessories.
Perfect for Weddings
This 20' x 20' Party Tent is so spacious, a hundred people can easily fit comfortably. This is just perfect for big gatherings. The windows are wide and are designed beautifully to let natural light in. You can open up the walls or keep them down. The tent is so easy to decorate with whatever you need for a wedding party. Flower arrangements with draping go so nice with the tent set up. You can also add lights for your tent if you need to supplement.
The tent comes with commercial grade Velcro fasteners for easy set up. Putting up a tent might seem like a daunting task but the tents from TheGazeboStore come with the instructional material which is so easy to follow for a fast and hassle free set up.
Additional Comfort
You can be sure your event will go on without a hitch with TheGazeboStore products. They have thought of everything from tables and chairs, to the chair covers. If you need lighting decorations, they have paper lanterns, string lights – perfect for a semi outdoor set up on a clear night. During the holidays you can have a Christmas tree set up. Paper curtains can add a warm atmosphere for your party.
A wedding isn't complete without a toast, TheGazeboStore also have foldable bars in stock. For laying out the ground, outdoor floor tiles are also available and even a white wedding aisle for a beautiful garden wedding. For a cozier feel to your event, add in an outdoor propane heater.
Contacting TheGazeboStore
TheGazeboStore staff will gladly assist you with your tent or set up needs. You can get in touch with TheGazeboStore through their email address; support@thegazebostore.com. Their working hours are from 9am to 8pm Mondays to Sundays. They also have a hotline you can call 1(888) 407-7909. If you do order or contact them through their website, they usually reply to inquiries and other concerns within 24 hours.
There is a lifetime warranty that comes along with ordering from TheGazeboStore. No additional costs will be added such as sales taxes. Free shipping is offered by TheGazeboStore within the United States. They have a money back guarantee to put your mind at ease when ordering.