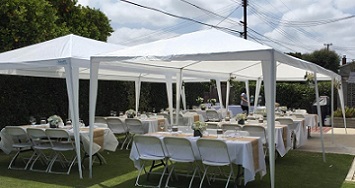 10' x 30 Party Tent
This party tent is suitable for big kiosks, patios, booths and larger parties. It can easily fit 75 people standing or 65 if sitting. The assembly for this tent is so easy and fast with the detailed instructions included in the package. You have the option of having the tent fully enclosed while still having natural lighting in through the wide windows. Enclosure is secured with commercial grade Velcro fasteners.
Companion to the Great Outdoors
This 10' x 30' tent is perfect for your family gatherings outdoors. You can set this up near your patio or in your backyard for a great party. A family BBQ is a welcome change of pace from a hectic week and this tent will provide a great protection from the smoke or sun. During the rainy season this can be a great means for you to make your parties hassle free.
For any events you might have; fund raisings, blood drives, or concerts this tent will definitely provide you with a comfortable area to set up and conduct your activities.
Getting the Tent
Ordering is a breeze, you can easily order online through their website. Just create an account or if you already have one, then just log in. Next, select the items you want and add it to your cart. If you are finished picking your items, you can check out and put in your personal and delivery information, check the details and pay. You get free shipping and they have discounts to give you the perfect deal. There are also no sales taxes so you get the best value for your money.
You can also order through phone and have their sales representative assist you and guide you through the purchasing process.
Your order will be delivered right at your doorstep. There is no need to worry about returns, if you receive a different item from the one you ordered you can have it shipped back. They aim to provide the best items and even better service.
Free shipping in the United States takes about 3-7 business days. For fast and safe delivery, FedEx, UPS and USPS shipping services are used. TheGazeboStore ships from multiple warehouses all over the United States for faster handling of deliveries.
Everybody's needs are different; they try to make sure that you can find what you are looking for easily. Use the navigation bars in their website. Their dedicated staff is ready to help if you need any assistance. A quick phone call to (888) 407-7909 will help them set you up with what you need.