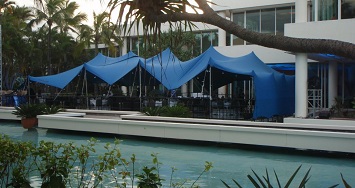 Buying a party tent is a great investment that will give you and your family countless hours of great memories. But of course you would want to get maximum usage from your purchase- luckily here at The Gazebo Store you are assured that with every party tent that you buy- from the high poles or our trademarked easy pop up tents, all of there come with a lifetime warranty! But of course before you need the assistance of our stellar customer service representatives we have some tips and tricks in caring for your party tents!
Storing your party tent equipment in a cool, dry, and clean place that is away from direct sunlight is the best thing you can do in making sure your party tent lasts you forever. Even though we carefully treat all our tents with anti-mold, and anti-mildew treatments, mold and mildew can still grow on wet and dirty canvas so make sure you wipe the fabric down dry after every use.
If it's getting dirty after a lot of usage, all you need to do is to wash it with warm water, and a tiny bit of soap. Don't forget to completely dry it when you're ready to store it!
If you have any questions, then don't hesitate to contact us at (888) 407-7909 or to chat with us using the live chat feature on the bottom right section of our website!