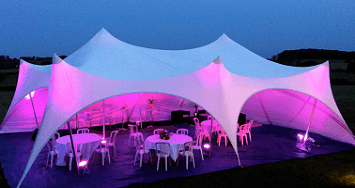 When you're having a large get together, wedding, group event, or party you need to think about where all the people are going to fit. You probably don't want them all in your house, and reception halls can be costly and give an overall feeling of confinement.
You want your guests to feel open and free, this will translate to their social behavior and create a wonderful and rememberable gathering for everyone.
There are so many options to consider when looking at party tents; such as pavilions, kiosks, alhambras, belvederes, follies, pergolas, a nd rotundas . Where do you even start?
Party tents in the general term is what you need. The best kind of party tent is the one that fits your backyard or rented land area, and the amount of people invited.
Typically the party tent rental company will provide you with a series of questions to help you figure out the right party tent for your event. Sometimes they will even come to where you plan to have the reception or event and they will evaluate the area to prepare for the right party tent. Other times they know they have had a party tent in that location before, and they will know right away which is the perfect party tent for there.
Party tents can be used in any weather environment. They stand up to wind, they can have wind blocking drapes to prevent gusts from coming into your party tent setup. When you have a party tent; you don't have to worry about rain ruining your event, in fact in the unfortunate event that rain does come down; it will provide your guests with a wonderful ambiance that would otherwise be annoying and ruin the party.
A party tent gives your guests the fantastic experience of being outside without the annoyances that usually come with it.