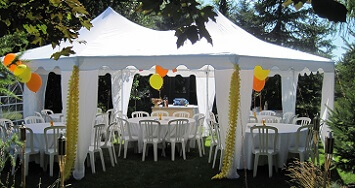 With the Easter just around the corner, many people have already started on planning their parties and drawing up their party wish lists. And while planning a party if often the most fun, things can go south quickly and you may find yourself feeling extremely frustrated. From rearranging the venue to fit all guests and crafting décor for the table to researching menu options, you will soon discover that there are things that you don't want or need to purchase. Gazebo Store can help with that and to get you started; we bring you a list of party tents, canopies, gazebos or canopies that you can add to your outdoor party wish list.
Party Tent
If there's one thing that defines an outdoor event and that make it unique altogether, it is a tent. Depending on the nature of your party as well as the number of guests you are expecting, there are plenty of tent options to go for. Tents also come in various shapes and sizes allowing you to pull off your party without a hitch. From octagonal and decagonal tents to regular shapes like rectangles to accommodate up to 350 guests, you can never go wrong with our party tents
Party canopy gazebos
Gazebos are also a great alternative to tents for outdoor events. They are especially great for weddings where the pastor and couple stand during the ceremony. They are an easy and instant way of providing shelter required during backyard events, recreation or even picnics. They come in various designs allowing you to choose what best suits your needs. You can purchase one and put in your backyard to provide shade on sunny hot days. It's an asset worth every cent. And if you are worried about how it's affected by the outdoors, you will be glad to know that gazebos are built to withstand harsh weather conditions for long.
Tables and chairs for your events
You want to make sure that your guests have ample seating to keep them comfortable hence to include tables and chairs in your events wish list. Whether your party is formal or not, there is a wide selection of high quality furniture guaranteed to ensure comfort of your guests. Tables and chairs are an essential element of any party and you can choose among various colors, shapes, sizes and designs.
Our selection of party canopies, tents as well as tables and chairs can go a long way in helping make your event a hit hence the emphasis to take advantage of what they have to offer. Gazebo Store boasts of an exhaustive catalogue geared towards making your party a success. Contact us for more information.